Common causes and solutions for unsuccessful calibration
eyes3 intelligent calibration can automatically adapt to most courts. However, calibration may fail occasionally due to incorrect camera positioning, poor lighting or court conditions. Here are some common causes and solutions to help you calibrate successfully.
Cause: The camera cannot see the full court area between the service line and baseline
Solution: Make sure the rectangular area between the service line and the baseline (shown in RED in the image below) is visible. Here are 2 sample views from Camera Placement 2 and 8. Please do the same for all other camera positions.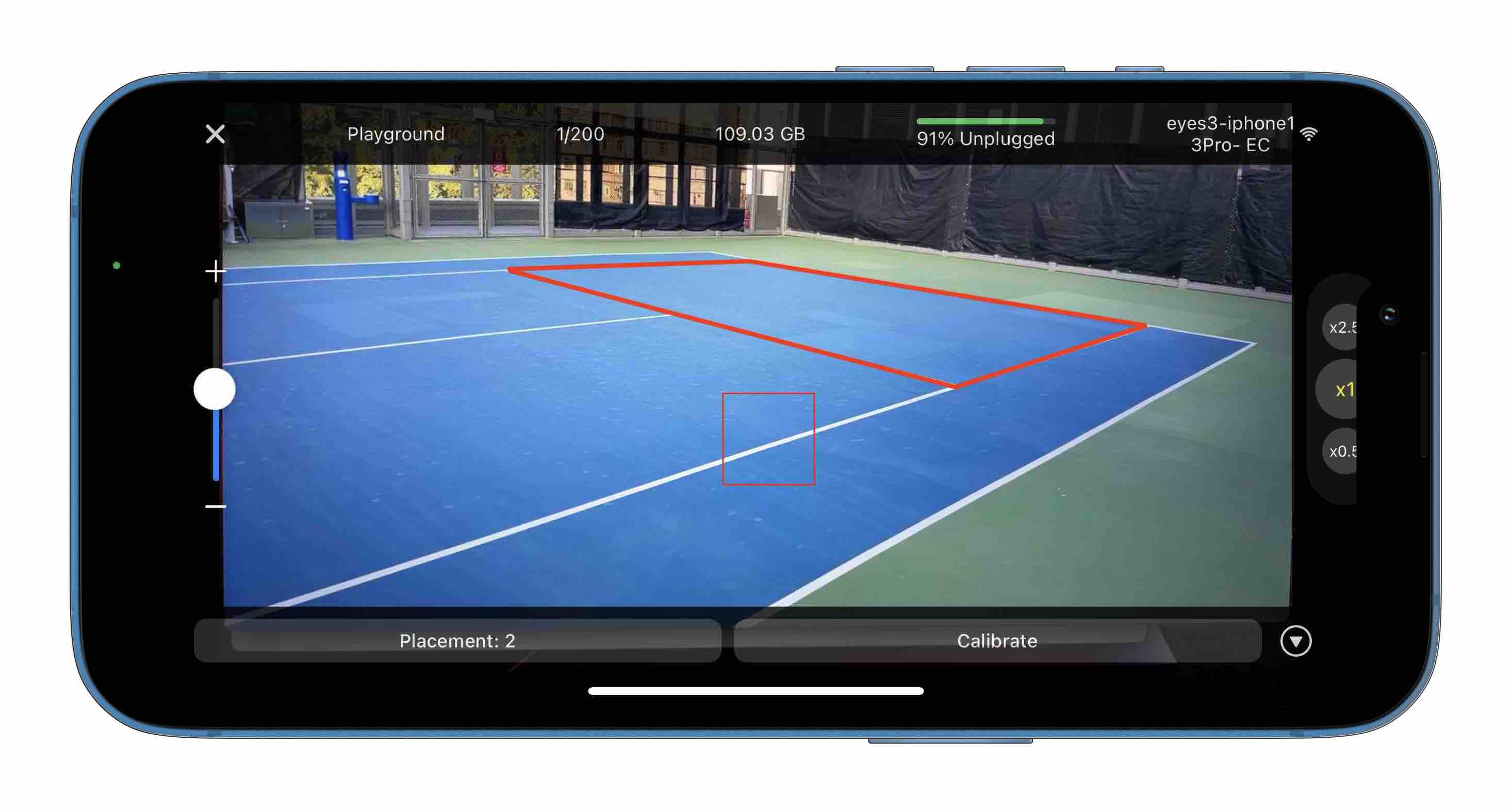 View from Camera Placement 2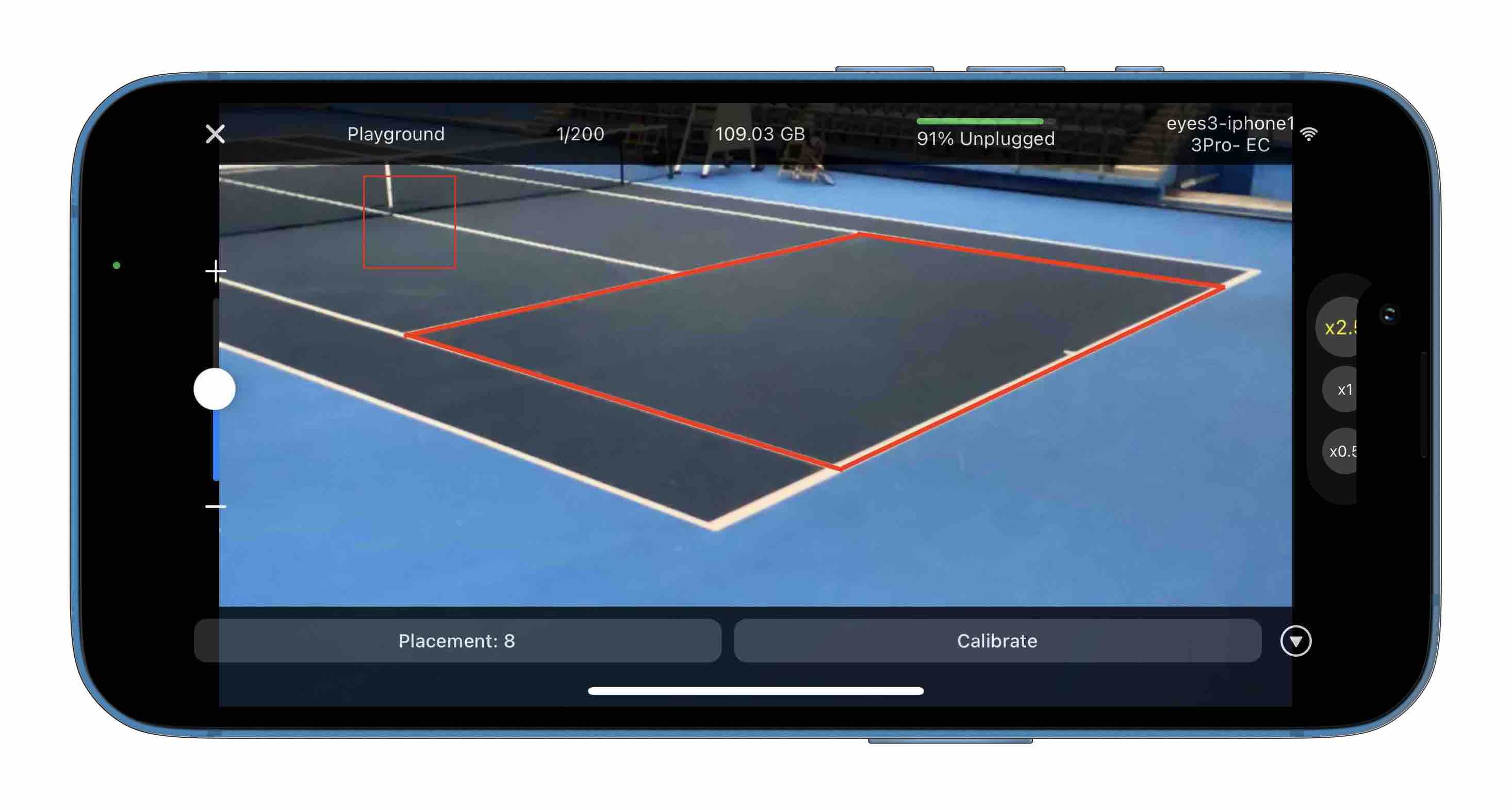 View from Camera Placement 8
Cause: Camera is facing the sun and is difficult to see the lines
Solution: Move the camera at an angle to avoid direct view to the sun. Choose a different camera placement location if possible. Consider adding a good quality circular polarizer to block glares off the court surface.
Cause: The camera is placed too far away and the lines are not clearly visible
Solution: Try putting the camera closer or to use the on screen zoom function if your iphone has a built in zoom lens (Pro and Max editions)
Cause: The court lines are covered by dirt
Solution: Try clearing the dirt covering the lines near the service line and base line rectangle
Cause: There are strong shadows from surrounding trees or buildings across the court surface
Solution: Use manual calibration (under advanced calibration) and position the 5 marker pins around the service and baselines rectangle as shown below.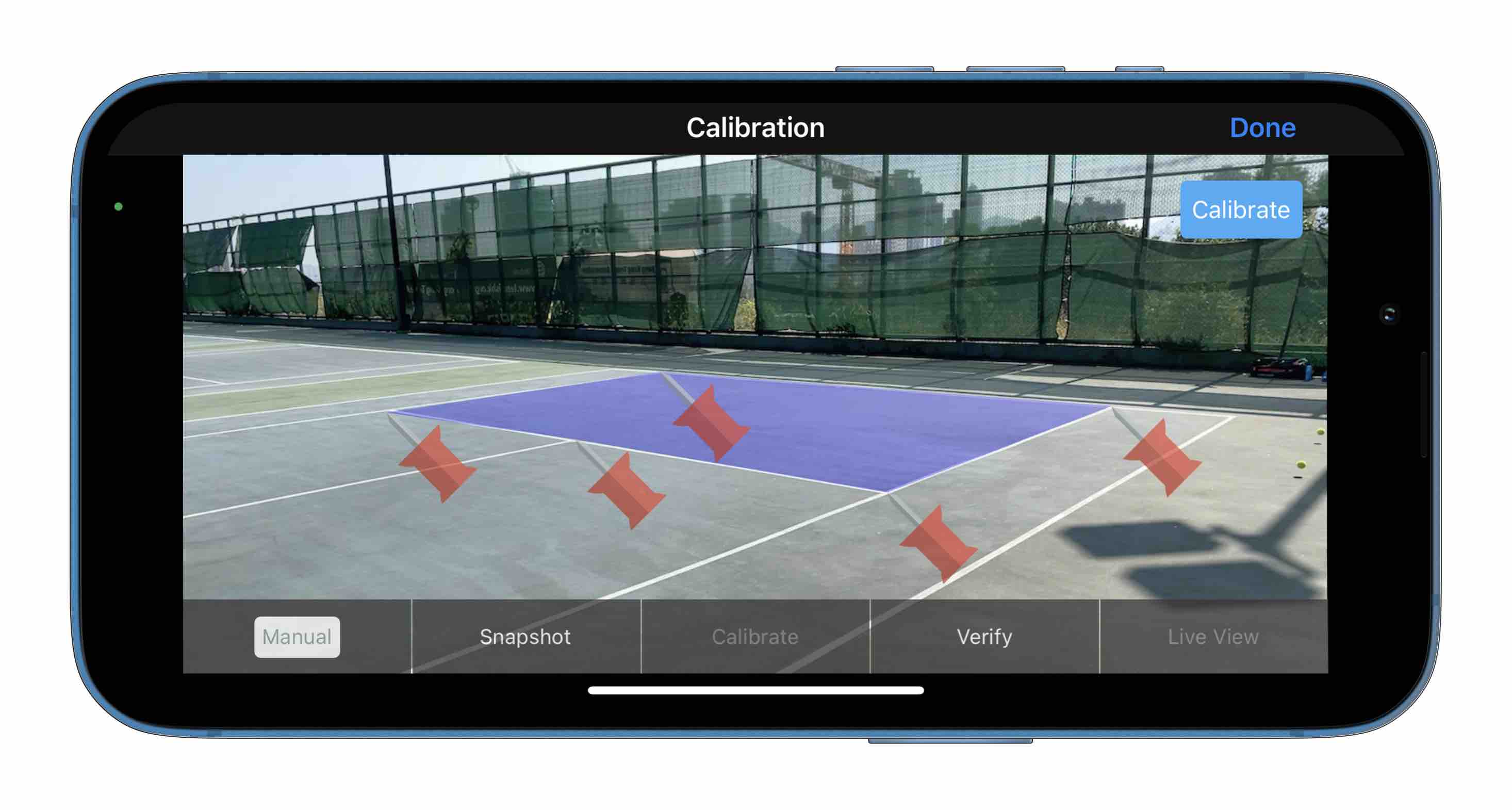 Manual Calibration for difficult court conditions
Cause: The lines on the courts are not clearly visible, expecially the service lines or the base line
Solution: Use manual calibration
Cause: There are non-tennis lines on the courts, for example, basketball court lines, pickle ball lines. These lines may confuse the auto calibration functions
Solution: Use manual calibration
Cause: All other problems
Solution: Use manual calibration
Calibration Tips:
For best results, use the remote calibration function from the CONTROL device to calibrate the court after the CAMERAs are positioned as opposed to calibrate directly on the CAMERA device. The clicking action on the CAMERA device may cause the iphone to accidently shake during calibration.

Good and reliable line call results depends greatly on good calibration. Re-calibrate frequently over the course of a match to ensure the CAMERAs are always have the best calibration, because the phone mounts, clamps or tripods may have inadvertently moved over time, contributing to inaccurate results.